02-02-06
its been a very good year up to now and i would like to take this time to address the issue about updated this website, at times it may seem as though the site is just not being attended to but i assure you that is not the case at all, this is still a very small company and most of the work we do is on a contract basis which means most of the work we do can not be posted on this site or is in the middle of production and generally as a rule i do not post alot of stuff that is not finished, this is just something i learned having experience in the music business that you never want to create a demand for something that does not exist.
That also brings me to another point we have no idea if you like any of the things presented here we rarely get any feed back and it makes the website seem less of a major concern then getting work done.
The last thing is as of last year we decided that 2006 will be more about focusing on mainstream work (work from the major comic book companies etc.) so you will see more Marvel, DC, Darkhorse, and more popular mainstream characters and arwork, this is for two reasons.
We are excited to see what we can do with that stuff
We can post more artwork online
so far we have been getting the best responses to our mainstream artwork so i guess what they say is true, if you want to be compared to the big time artist in the industry you have to do the same work they are...email us or just sign the guestbook on the home page we need to hear from you.
-one.
10-17-05
"this weekend was the the return of Erik Reeves to the Dallas Comic-Con and not to mention the entire Bad Habits Productions Crew. We have officially decided we will update this site everyday as of 10-17-2005.
The PEACEKEEPER ashcan is now available and can be ordered by sending $3.00 to VEARGRAPHICS attention: Peacekeeper Ashcan P.O.Box 411532 Dallas, Texas 75241
"Sorry it has been so long since our last update!"
"This has been a very tough year for us but we are still on target to win! The long anticipated PEACEKEEPER project is still in the works and is presently being inked and lettered. The upcoming HOODRATZ IN SPACE project is looking beautiful and we cant wait to show some of it online soon. And we have several other cool projects in the work...ok we are so excited about one that we have to share the title with you now...MOONRUSH:VANGUARD! yes its true we will be doing and exclusive MOONRUSH story. So stay tuned..."
"Look out!"
"Thats right everyone im back from San Diego!"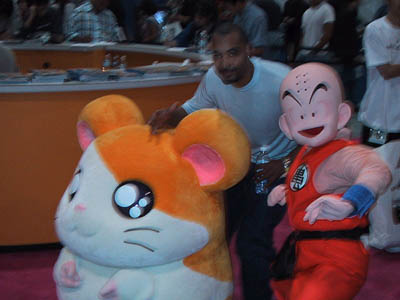 "Check back soon for more pictures...they wont all be as bad as this one!"

"Be on the look out for work i have done recently for the very cool guys over at Antarctic Press!"

"First off peep out the cool props givin to my good friend Scott Kurttz in this months edition of Wizard magazine for his awesome book PVP! Second be on the look out for my short story in the upcoming issue of PVP entitled "PLAYA VS. PLAYA" it will be worth it!"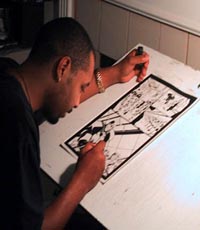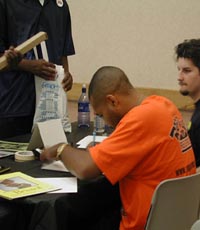 Erik Reeves
will be appearing at the
Dallas Comic and Toy Fest 4
June 22-23 2002